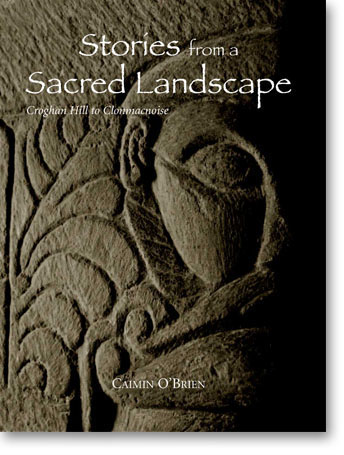 With the flair of a storyteller and the keen eye of a practicing archaeologist, Caimin O'Brien looks beneath the monastic ruins of County Offaly to uncover Stories from a Sacred Landscape: Croghan Hill to Clonmacnoise.
O'Brien draws on archaeology, history, poetry, folklore and legend to create vivid portraits of twenty-five sacred places within Offaly.He recounts the tales that surround the county's first saints and the monasteries they founded.

"This attractive book breaks new ground in presenting a visual feast with excellent photography and design work by James Fraher and Connie Scanlon."
Pat Wallace
Director, National Museum of Ireland
FEATURING SELECTED PHOTOGRAPHS BY JAMES FRAHER
EDITED BY MARY ANN WILLIAMS
DESIGNED BY CONNIE SCANLON, BOGFIRE
CONCEIVED AND DIRECTED BY KEVIN O'DWYER
CONCEIVED AND PRODUCED BY AMANDA PEDLOW
Published by Offaly County Council
Click here to order from Kenny's Bookshop in Galway
Click here to order from Mercier Press
Click here to order from Amazon UK