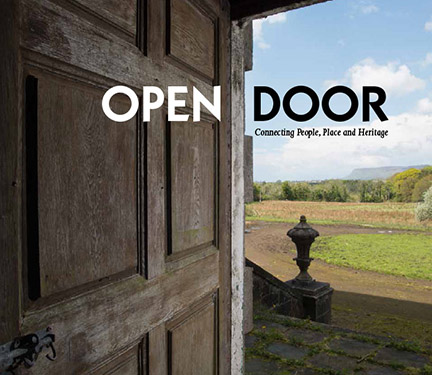 "The book, Open Door, Connecting People, Place and Heritage, brings together aspects of heritage and peace-building themes by using a number of historic buildings as the lens to explore sometimes difficult and sensitive issues of peace and reconciliation. This publication aims to provide a lasting and thought-provoking legacy of the Open Door Project and hopes to remain relevant for many years to come."
— from the foreword of Open Door
The project was funded by the PEACE III Programme through the European Union's European Regional Development Fund, which is managed for the Special EU programmes body by Sligo County Council on behalf of the Sligo Peace and Reconciliation Partnership Committee. The project was delivered by the Heritage Office, Sligo County Council (as lead partner) through Woodrow Sustainable Solutions and Janie Crone Associates.
The aims of the Open Door project were to increase understanding of local history and how it has shaped the current political and social landscape. The project also hopes to encourage consideration of ways in which history can be viewed from different perspectives, thereby creating a diversity of political beliefs.