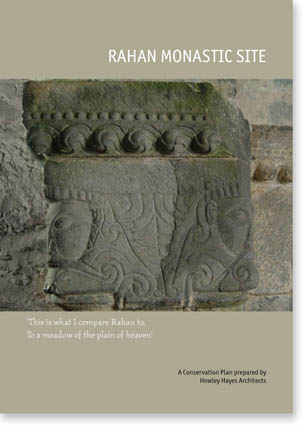 The setting of the Church of St Carthage is of considerable cultural significance, being the site of the original enclosure to the Monastery of Rahan founded in the fifth century.
The completion of this conservation plan for the Church of St Carthage and its well-preserved, early monastic
setting fulfils one of the aims of the Offaly Heritage Plan 2007-2011. It was commissioned by Offaly County
Council and carried out by Howley Hayes Architects in association with Caimin O'Brien, archaeologist with the
Archaeological Survey of Ireland, which is a section of the National Monuments Service.
"Conservation Plans can be factual and analytical by definition, however the involvement of Bogfire has made this a document which is appealing to the general public."
Eamon Dooley, Cathaoirleach, Offaly County Council